DR. DR. KOKENSTEIN'S BETWEEN HER LEGS HALLOWEEN MIX.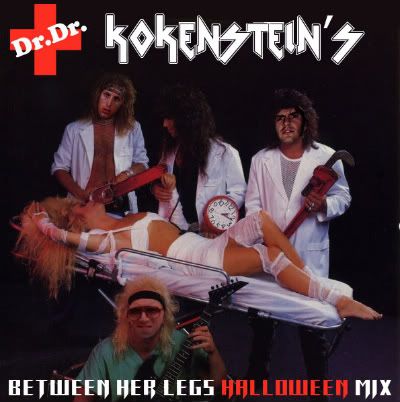 Dr. Dr. Kokenstein (pronounced with a

hard

German accent) is a deranged, psychopathic surgeon with a vital prescription just for you. He's spent months formulating a lethal mixture of cocaine, pieces of a dead hooker that were previously laid across his lab table and of course, HEAVY METAL. He bottles this concoction and sneaks it on to pharmacy shelves in the blackest of night, right before dawn.

Dr. Dr.

urges you to convince your Mom to fire up the station wagon and drive you down to the local pharmacy. Tell the pharmacist that you're there to pick up a prescription from

Dr. Dr. Kokenstein!

With appearances from Blackie Lawless of

W.A.S.P.

and Barbara Walters

of

ABC News

, this mix promises to not only make your ears bleed, but your nose as well. Your instinct will to be grab a tissue and run to the bathroom, but

Dr. Dr.

advises you not to, because that drip of blood coming out of your left nostril is a drip of heavy metal discharge!